The whole food internet world is lamenting over their excess of zucchinis. Every other day I see a post that tells you what to do when you're fed up with zucchini, or how to control your squash population problem. It's a serious crisis. Everyone needs to just calm down and take a breather. Stop making ribbons, stuffing, and pureeing. Just get back to the basics and make a damn cake. That's basically what zucchini bread is anyway. Who gets tired of cake?
Zucchini bread is so welcoming, fragrant and charming; how can I say no when my zuke is just begging to be made it into a bread? This one is not quite as healthy as my last, but it's still mostly healthy! It's hard for me to abandon my health-nut nature entirely, so I simply lowered the sugar content by swapping in naturally sweet applesauce in lieu of more sugar, and used whole wheat flour and olive oil. I threw in dark chocolate chips for good measure, without measuring.
Although I studied other recipes in making this one, I'm proud to say this recipe is entirely my own!
One trick I find helpful, that I haven't seen in other zucchini bread recipes, is to add the salt for the bread directly onto the grated zucchini. This draws out excess moisture.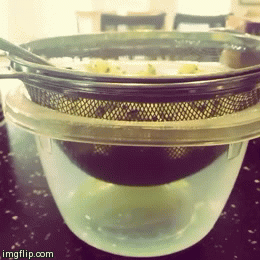 While the zucchini is draining, get all of your other ingredients ready.
Mix all of the wet ingredients.
Then mix all of the dry ingredients.
Add the wet ingredients to the dry, and mix well. Then distribute between loaf pans, muffins tins, or whatever else you might be using.
Bake for 50 minutes at 350 degrees. It could be more or less time, depending on your oven.
Zucchini Bread with Dark Chocolate Chips
Yield: 2 loaves, or; 1 large loaf and 6 large muffins, or; 24 small muffins 
Ingredients:
2 cups grated zucchini (1 large or 2 medium)
1 tsp salt
3 eggs
1 cup unsweetened applesauce
1/4 cup olive oil
1/2 cup sugar
1/2 cup brown sugar
2 tsp vanilla extract
3 cups whole-wheat flour
2 tsp cinnamon
1/2 tsp pumpkin pie spice
3 tsp baking soda
1/2 tsp baking powder
1/2 cup dark chocolate chips (more or less to your liking)
Optional: chopped walnuts or pecans
Preparation:
Preheat oven to 350 degrees. Grease two 8×4 inch loaf pans. Or if, like me, you only have 1 loaf pan; grease 1 loaf pan and a muffin tin.
First things first, wash your zucchini and then grate on a box grater into a strainer. I mix the salt with the zucchini at this point, because it helps draw out some of the moisture. Let the zucchini sit and drain for about 10 minutes, then take a thin kitchen towel or cheese cloth and squeeze the excess water out.
In a large bowl, beat the eggs with a whisk. Mix in the applesauce, oil, sugar, and vanilla. Then stir in the grated and drained zucchini.
Combine the flour, spices, baking soda, and baking powder. Add in the chocolate chips at this point too so the chips get some flour all up on them and don't sink to the bottom when they bake.
Stir the dry mix into the wet mixture. Divide the batter into the 2 prepared loaf pans, or into 1 loaf pan and a muffin tin. You can also make ALL muffins if your heart so desires!
Bake loaves for about 50 minutes. It might need more or less time, but at this point test and see if a toothpick comes out clean when inserted into the center. Muffins will only take about 20 minutes, but test them the same way to ensure they are done.
Nom nom